2022 Convention and Trade Show
November 30 - December 2, 2022 | Nugget Casino Resort, Sparks, NV
The 87th Annual Nevada Cattlemen's Association Convention and Trade Show will be held November 30- December 2, 2022 in Sparks, NV, in conjunction with the California Cattlemen's Association.
As NCA members around the state gather in Sparks, we will celebrate a lifetime of traditions, revise and review policies, and take a chance to enjoy our friends and neighbors.
At the convention members of the Nevada Cattlemen's Association, guest speakers and vendors that provide services to the beef cattle industry will join together to celebrate the Nevada Livestock Industry. NCA staff and officers are working hard to provide you with a memorable and educational experience.
REGISTER NOW
Sponsorship and Trade Show Opportunities
Trade Show and Sponsorship information has been mailed. If you did not receive the information and would like to participate, you may download the information below.
2022 NCA Convention Sponsorship


Brett Stuart, Global AgriTrends
Brett Stuart is a founding partner of Global AgriTrends, a Denver based firm founded in 2006, focused on research, analysis and forecasting of the global agriculture sector. The work of the firm specializes in coverage of the global meat and poultry sectors. The firm also conducts research around the globe and provides market analysis to a wide variety of clients from multi-national meat companies to pharmaceuticals to exporting firms and trade associations.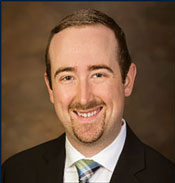 Patrick Linnell, CattleFax
Born and raised in eastern Oregon, Patrick Linnell grew up with a commercial and registered Red Angus background. He graduated with a bachelor's degree in animal science and agricultural business from Colorado State University, where he was a member of both the meats and livestock judging teams and was involved in other clubs and activities. In fall 2017, Patrick earned a master's degree in agricultural economics from CSU. His research focused on price forecasting and fed cattle markets.
Patrick joined CattleFax as an analyst in January 2018 and currently serves as the Director of Cattle Market Research and Analysis. His primary responsibilities include fundamental research and analysis within the cattle markets, as well as helping producers navigate markets and manage risk within their operations. Patrick is responsible for serving CattleFax members in the western region and writes frequently for CattleFax publications.
Patrick and his wife, Jordy, live in Castle Rock, Colorado with their two Corgis. They frequent the ski slopes in the winter and enjoy helping with the family operation in Oregon whenever possible. Patrick also helps coach the local 4-H livestock judging team.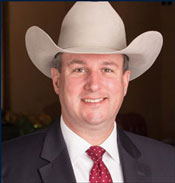 Colin Woodall, NCBA Chief Executive Officer
Colin Woodall is the Chief Executive Officer of the National Cattlemen's Beef Association and leads the country's oldest and largest national trade association for cattle producers in being the trusted voice and definitive leader of the beef industry.
Originally from Big Spring, Texas, Colin graduated from Texas A&M and then worked as a grain elevator manager and merchandiser for Cargill at several locations in western Kansas and the Oklahoma panhandle. After venturing to Washington, Colin took a job with U.S. Senator John Cornyn from Texas. He has been with NCBA since 2004 and served as the association's Chief Lobbyist in Washington, D.C., for a decade. He is a founding member of the Government Relations Leadership Forum, a life member of the Houston Livestock Show and Rodeo, member of the Texas Aggie Corps of Cadets Association, the Agribusiness Club of Washington, D.C., the Washington Agricultural Roundtable, and is a past Chairman of the Board of Directors for the Agriculture Council of America. He also volunteers as a junior commercial steer show judge at the San Antonio Livestock Exposition.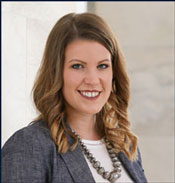 Kaitlynn Glover, Public Lands Council Executive Director
Kaitlynn Glover serves as the Executive Director of the Public Lands Council and the National Cattlemen's Beef Association Natural Resources. Prior to joining PLC in 2020, Kaitlynn served as a policy advisor on agriculture, natural resources, and Tribal policy issues in the United States Senate.
Before moving to Washington, Kaitlynn spent several years working for Teagasc, the agriculture semi-state authority in Ireland. During that time, she received a Masters of Agriscience in Innovation Support from University College Dublin in Dublin, Ireland.
Originally from Wyoming, Kaitlynn has a diverse background in agriculture policy and production, and strong ties to grazers, recreationalists, and many other users of public land resources. She is an alumna of the University of Wyoming College of Agriculture where she studied agriculture communications, international agriculture economics, and farm and ranch management.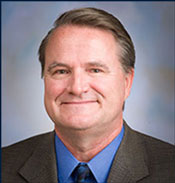 Stephen Koontz, Colorado State University Professor in the Department of Agriculture and Resource Economics
Stephen Koontz is a Professor in the Department of Agricultural and Resource Economics at Colorado State University. He works in the areas of commodity marketing, risk management, market price analysis, and agribusiness industrial organization. His interests are in commercial agriculture production and marketing and the functioning agribusinesses. His responsibilities at Colorado State University include outreach, teaching, and research.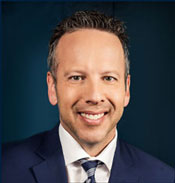 Brian Bledsoe, Meteorologist KKTV 11 News, Colorado Springs, Colorado
Brian grew up on a ranch 45 miles Southeast of Limon, where his family still farms and ranches. Weather is extremely important when it comes to his family's way of life, and that is something he learned at a very early age. Brian cites that as the most influential reason for him wanting to become a Meteorologist.
He obtained his Meteorology degree at the University of Northern Colorado and has been in broadcasting for the past 20+ years. Brian's journey has taken him to KGWN-TV in Cheyenne, Wyoming, KMEG-TV in Sioux City, Iowa, KDLT-TV in Sioux Falls, South Dakota, and then CBS 58 in Milwaukee, Wisconsin. He has been blessed to work at KKTV since late 2005 and is grateful to have the opportunity to work with great people.
Aside from tv, he runs his own private forecasting business and does seasonal and long-range weather consulting for various interests across the country. Brian and his family hope to keep calling Southern Colorado home for many years to come.
Allied Industry Trade Show
Don't miss your opportunity to get into the trade show and find out about up-and-coming products and services from Allied Industries. The booths are filled with great businesses and agencies that support and enhance our industry. The trade show will be open Wednesday from 12:00 p.m.– 9:30 p.m. and from 7:00 a.m. – 1:00 p.m. on Thursday.
NCA Awards Banquet
At our Annual Awards Banquet this year's recipients for the President's Award, Allied Industry Award, Teacher of the Year, Hall of Honor, 100,000 Mile Club, and the 2022 Cattleman of the Year will be announced.
Committee Meetings
Committee meetings are open to everyone. During the meeting, Nevada Cattlemen's Association members will set policy direction for the Association. In these meetings, you will get the latest on Legislative Affairs, Research and Education, Private Lands, Federal Lands, and Animal Health & Livestock Issues.
Hotel Accommodations
The NCA room block at the Nugget Casino Resort is open! To receive a discounted rate, please make your reservation by November 8, 2022. You can do so by going to https://www.nuggetcasinoresort.com and applying the discount code "GCCANV" or by calling the Nugget directly at (800) 648-1177 and mentioning the group code GCCANV.
2022 Trade Show Exhibitors
Anipro XtraFormance Nutrition
Bar ALE Feed, Inc.
Bayer Environmental Service
Big Bend Trailers
Boehringer Ingelheim
California Beef Council
California Cattlewomen
Cal Poly Animal Science
Cambridge Technologies
CBCIA
CCA Shoe Shine
CCA Silent Auction
CCA Trading Post
D Bar D Leather
Elanco
Farm Credit
Freewave Technologies
Greenway Industries & Seed
Huvepharma, Inc.

Hygieia Biological Laboratories

Kirby Manufacturing Inc.

Laird Mfg LLC

Merck Animal Health

Multimin USA, Inc.

Nevada Dept. Of Agriculture

Norbrook

Pacific Intermountain Mortgage Co
PG & E

Powder River

Ranchbot

Ranchers Connecting Ranchers

Scales NW LLC

Scales Unlimited, Inc

Simplot

Snyders Pinenut Livestock

Stay-Tuff Fence
Superior Livestock Auction
UNR College of Agriculture, Biotechnology & Natural
US Fish & Wildlife Service
USDA - ARS
USDA APHIS Wildlife Services
USDA-Nevada FSA
Vaxxinova/Newport Labs
Vintage Angus
Vintage Cowboy Winery
VSI
Westway Feed Products
Western Video Market
WSR Insurance
Y2 Consultants
Y-Tex
Zoetis
---