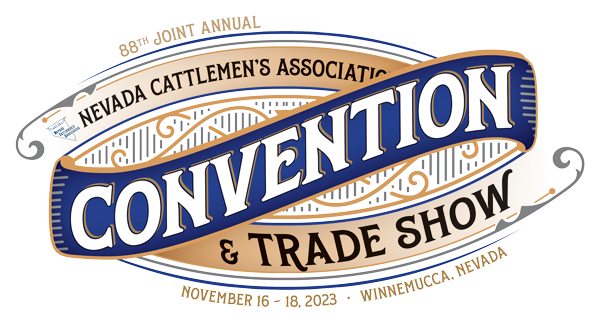 2023 Convention and Trade Show
NOVEMBER 16 - 18, 2023 | WINNEMUCCA CONVENTION CENTER, WINNEMUCCA, NV
The Nevada Cattlemen's Association 88th Joint Annual Convention and Trade Show will be held November 16-18, 2023 in Winnemucca, NV in conjunction with the Nevada Cattlewomen, and Nevada Wool Growers Association. As livestock association members around the state gather in Winnemucca, we will celebrate a lifetime of traditions, revise and review policies, and take a chance to enjoy our friends and neighbors.
At the convention attendees, guest speakers and vendors that provide services to the beef cattle industry will join together to celebrate Nevada's livestock industry. NCA staff and officers are working hard to provide you with a memorable and educational experience. Registration will open soon.
Sponsorship and Trade Show Opportunities
Trade Show and Sponsorship information has been mailed. If you did not receive the information and would like to participate, you may download the information below.
2023 NCA CONVENTION & TRADE SHOW SPONSORSHIP and EXHIBITOR PACKET

2023 NCA Convention Schedule
** Schedule is tentative and subject to change. **


Thursday, November 16
7:00 a.m. - 6:30 p.m.




Registration Opens

7:30 a.m. - 11:00 a.m.

NV Wool Grower's Breakfast

8:00 a.m. - 10:00 a.m.

NCA Federal Lands Committee

10:00 a.m. - 11:00 a.m.

NCA Research and Education Committee Meeting

11:00 a.m. - 12:00 p.m.

NV Rangeland Resources Commission Meeting

11:30 a.m. - 9:30 p.m.




NCA Trade Show Opens

12:00 p.m. - 1:00 p.m.




Lunch in the Trade Show

1:00 p.m. - 4:00 p.m.

1:30 p.m. - 3:30 p.m.

3:00 p.m. - 4:00 p.m.

4:00 p.m. - 5:00 p.m.

5:30 p.m. - 9:00 p.m.




NV Central Grazing Committee Meeting

NV CattleWomen General Membership Meeting

NV Land Action Association

Opening General Session

Trade Show Welcome Party
Friday, November 17
6:30 a.m. - 5:00 p.m.




NCA Registration Open

7:00 a.m.- 8:00 a.m.




Continental Breakfast in the Trade Show

7:00 a.m. - 12:00 p.m.




Allied Industry Trade Show

8:00 a.m. - 10:00 a.m.

10:00 a.m. - 11:00 a.m.




NCA Animal Health Committee

General Session #2

10:00 a.m.- 12:00 p.m.




NV CattleWomen Board of Directors Meeting

11:00 a.m. - 12:00 p.m.

Break in the Trade Show

12:00 p.m. - 1:30 p.m.




NV Beef Council Lunch

1:30 p.m. - 3:00 p.m.




NCA Private Lands & Environmental Health Committee

3:00 p.m. - 4:30 p.m.




NCA Legislative Affairs Committee

5:30 p.m. -6:30 p.m.




NCA President's Reception/ Cocktail Hour

6:30 p.m. - 9:30 p.m.




NCA Awards Banquet
Saturday, November 18
8:00 a.m. - 9:15 a.m.

CattleFax Breakfast

9:30 a.m. - 10:30 a.m.

NCA General Membership Meeting

10:30 a.m.- 12:30 p.m.

NCA Board of Director's Meeting
2023 Trade Show Exhibitors
Bison Pipe & Supply LLC

Gallagher North America

Jorgensen Land & Cattle

Key-Lix

Simplot Western Stockmen's
---