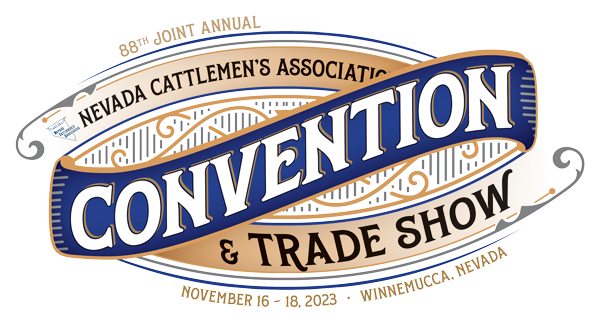 2023 Convention and Trade Show
NOVEMBER 16 - 18, 2023 | WINNEMUCCA CONVENTION CENTER, WINNEMUCCA, NV
The Nevada Cattlemen's Association 88th Joint Annual Convention and Trade Show will be held November 16-18, 2023 in Winnemucca, NV in conjunction with the Nevada Cattlewomen, and Nevada Wool Growers Association. As livestock association members around the state gather in Winnemucca, we will celebrate a lifetime of traditions, revise and review policies, and take a chance to enjoy our friends and neighbors.
At the convention attendees, guest speakers and vendors that provide services to the beef cattle industry will join together to celebrate Nevada's livestock industry. NCA staff and officers are working hard to provide you with a memorable and educational experience. Registration will open soon.
DOWNLOAD REGISTRATION PACKET PDF


Sponsorship and Trade Show Opportunities
Trade Show and Sponsorship information has been mailed. If you did not receive the information and would like to participate, you may download the information below.
2023 NCA CONVENTION & TRADE SHOW SPONSORSHIP and EXHIBITOR PACKET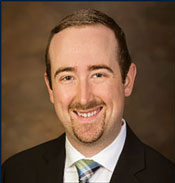 Patrick Linnell, CattleFax
Born and raised in eastern Oregon, Patrick Linnell grew up with a commercial and registered Red Angus background. He graduated with a bachelor's degree in animal science and agricultural business from Colorado State University, where he was a member of both the meats and livestock judging teams and was involved in other clubs and activities. In fall 2017, Patrick earned a master's degree in agricultural economics from CSU. His research focused on price forecasting and fed cattle markets.
Patrick joined CattleFax as an analyst in January 2018 and currently serves as the Director of Cattle Market Research and Analysis. His primary responsibilities include fundamental research and analysis within the cattle markets, as well as helping producers navigate markets and manage risk within their operations. Patrick is responsible for serving CattleFax members in the western region and writes frequently for CattleFax publications.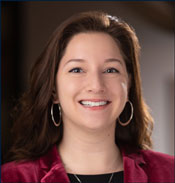 Sigrid Johannes, Public Lands Council Director
Sigrid works as the Associate Director for the Public Lands Council and NCBA Government Affairs. Previously, she worked on the NCBA communications team and got hooked on the policy issues impacting federal grazing permittees. She is thrilled to be able to advocate for Western livestock producers in this new role.
After graduating from the College of Charleston in South Carolina, Sigrid did communications work for the U.S. Senate Joint Economic Committee and U.S. Representative Abigail Spanberger. She is originally from Washington, D.C.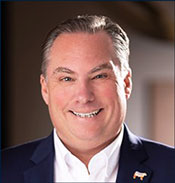 Ethan Lane, NCBA Vice President of Government Affairs
Ethan Lane is the Vice President of Government Affairs at the National Cattlemen's Beef Association. Ethan is a 5th generation Arizonan with more than 20 years of experience in natural resources, land use issues, and advocacy on behalf of the cattle industry.
Prior to his role as the Vice President of Government Affairs, Ethan was the Executive Director for the Public Lands Council and Senior Executive Director of the NCBA Federal Lands portfolio. Before joining PLC and NCBA, Ethan operated a consulting firm where he worked on multiple high profile political campaigns and advised a variety of private companies and industries on regulatory and legislative issues impacting their businesses.
Prior to moving to Washington, Ethan spent ten years helping to grow and manage a large real estate and ranch portfolio in Arizona. His diverse background gives him a unique perspective on the challenges producers face on a daily basis.
Allied Industry Trade Show
Don't miss your opportunity to get into the trade show and find out about up-and-coming products and services from Allied Industries. The booths are filled with great businesses and agencies that support and enhance our industry. The trade show will be open Thursday from 12:00 p.m.– 9:00 p.m. and from 7:00 a.m. – 12:00 p.m. on Friday.
Committee Meetings
Committee meetings are open to everyone. During the meeting, Nevada Cattlemen's Association members will set policy direction for the Association. In these meetings, you will get the latest on Legislative Affairs, Research and Education, Private Lands & Wildlife, Federal Lands, and Animal Health & Livestock Issues.
NCA Awards Banquet
At our Annual Awards Banquet this year's recipients for the President's Award, Allied Industry Award, Teacher of the Year, 100,000 Mile Club, and the 2023 Cattleman of the Year will be announced.
Hotel Accommodations
Discounted room rates are available at the following locations. Be sure to mention the Nevada Cattlemen's Association when making a reservation and book before November 1st, 2023, for a discounted rate.
Winnemucca Inn & Casino
741 W. Winnemucca Blvd.
Winnemucca, NV 89445
Phone: (775) 623-2565
Candlewood Suites
460 E. Winnemucca Blvd.
Winnemucca, NV 89445
Phone: (775) 623-2700
Holiday Inn Express
1987 W. Winnemucca Blvd.
Winnemucca, NV 89445
Phone: (775) 625-3100
Winners Inn & Casino
185 W. Winnemucca Blvd.
Winnemucca, NV 89445
Phone: (775) 623-2511
---
2023 NCA Convention Schedule
** Schedule is tentative and subject to change. **


Thursday, November 16
7:00 a.m. - 6:30 p.m.




Registration Opens

7:30 a.m. - 11:00 a.m.

NV Wool Growers' Breakfast

8:00 a.m. - 10:00 a.m.

NCA Public Lands Committee

10:00 a.m. - 11:00 a.m.

NCA Research and Education Committee Meeting

10:30 a.m. - 11:30 a.m.

NV Rangeland Resources Commission Meeting

11:30 a.m. - 9:30 p.m.




Allied Industry Trade Show

12:00 p.m. - 1:00 p.m.




Lunch in the Trade Show

1:00 p.m. - 4:00 p.m.

1:30 p.m. - 3:30 p.m.

3:00 p.m. - 4:00 p.m.

4:00 p.m. - 5:00 p.m.

5:30 p.m. - 9:00 p.m.




NV Central Grazing Committee Meeting

NV CattleWomen General Membership Meeting

NV Land Action Association

Opening General Session

Trade Show Welcome Party
Friday, November 17
6:30 a.m. - 5:00 p.m.




Registration Opens

7:00 a.m.- 8:00 a.m.




Continental Breakfast in the Trade Show

7:00 a.m. - 12:00 p.m.




Allied Industry Trade Show

8:00 a.m. - 10:00 a.m.

10:00 a.m. - 11:00 a.m.




NCA Animal Health & Livestock Issues Committee

General Session #2

10:00 a.m.- 12:00 p.m.




NV CattleWomen Board of Directors Meeting

11:00 a.m. - 12:00 p.m.

12:00 p.m.

Break in the Trade Show

Allied Industry Trade Show Closes

12:00 p.m. - 1:30 p.m.




NV Beef Council Lunch

1:30 p.m. - 3:00 p.m.




NCA Private Lands, Wildlife, & Environmental Management Committee

3:00 p.m. - 4:30 p.m.




NCA Legislative Affairs Committee

5:30 p.m. -6:30 p.m.




NCA President's Reception/ Cocktail Hour

6:30 p.m. - 9:30 p.m.




NCA Awards Banquet
Saturday, November 18
8:00 a.m. - 9:15 a.m.

CattleFax Breakfast

9:30 a.m. - 10:30 a.m.

NCA General Membership Meeting

10:30 a.m.- 12:30 p.m.

NCA Board of Director's Meeting
2023 Trade Show Exhibitors
---