Join today and become a valued member of NCA!
The Nevada Cattlemen's Association (NCA) would like to invite you to join with your fellow beef industry supporters/cattle producers and become a member of NCA.
What do you receive as a member of NCA?
Builds a positive image of the industry in the eye of the public
Continues to have an active legislative presence on a state and national level to ensure cattle and ranching friendly legislation
Provides a voice in the interests of its members directed by policy
Full time representation at the Nevada State Legislature during Legislative General Sessions (Part time representation during Interim Sessions)
Influence on Governor appointed Boards and Committees
Works to collaborate with stakeholders
Encourages youth development in the agriculture industry
Offers members opportunities to interact and exchange ideas
Receive Associate Member Directory which offers members insight to continued business members and friends of the industry.

Be eligible to serve on committees with other members

Mingle with other members state and nation wide at the following events:

Annual Convention and Trade Show
Cattlemen's Update (Sponsored by Nevada Cattlemen's Association and UNR Cooperative Extension
Fallon All Breeds Bulls
Sale Young Cattlemen's Conference
Educational Opportunities
Strives to educate and inform Nevada ranchers
Notifies members regularly about current and upcoming issues
Provides opportunities for members to learn best management practices
Receive email updates
Subscription to our monthly newsletter "Sage Signals"
Online BQA Certification
Be informed of upcoming educational forums provided throughout the State
Be supportive of our youth development programs including:

Scholarships
Teacher of the Year Award
Participation in NCBA's Young Cattlemen's Conference
Coordination with local and state agricultural education programs
"Over the past 75 plus years, NCA has become a leading representative for all of rural Nevada. We work on issues such as wildfire, endangered species, rural health care, and drought relief efforts. Our objective is to protect the agricultural industry of rural Nevada."
"As rural representation continues to decrease, it is my goal to keep NCA as the strong voice of rural Nevada. The multitude of issues that arise must be dealt with on local, state, and federal levels. I pledge to continue to work on all issues, at all levels, for all of rural Nevada."

- JJ Goicoechea, DVM, Past President of Nevada Cattlemen's Association

Associate Member Directory 2020-2021
A directory of associate members of the Nevada Cattlemen's Association.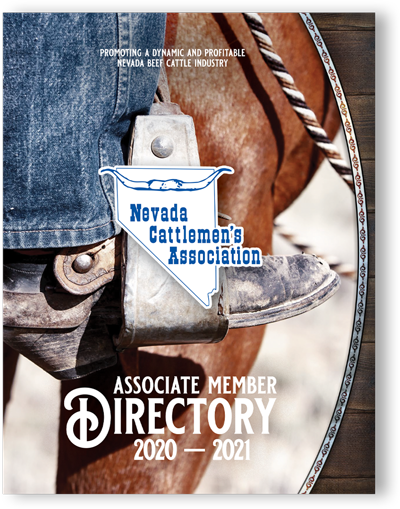 Associate Member Directory 2019-2020
A directory of associate Nevada Cattlemen's Association members.